It is very difficult to continue blogging if you could not find content to publish for your blog.  For a blog it is very important to have fresh content published regularly. Very difficult! Right? Even when I started to learn about internet marketing I thought writing is not possible for me. But I tried and  now I try to update my blog at least thrice in a week.  Not good  but OK.
It happens with everybody in the initial stage. However you can outsource your article and publish it. But it may not be possible with every new blogger.
There is a way to avoid this problem of posting content regularly. You can use Private Label Rights Article for your blog content. With Private label article you are allowed to use articles for your own purpose, sell it or give it away for free.
But there is problem. For example you bought some private label articles form some marketer.  The same articles may be bought by some other person also. Using those articles as it is means you are breaking friendship with Google as Google doesn't like duplicate content.
That's why it is strongly recommended that if you are going to use Private Label Articles for your blog don't forget to rewrite it. At least the title, beginning and ending paragraph. Recently I took heading of one PLR article and searched in Google to check what comes up. I got shocked as same title was being used in many places. At least they could have changed the title.
Though there are problems with PLR content, it is very useful because it saves a lot of time. Get the idea reading PLR article and then write in your own words. This way your post will look like unique. For this blog till now I didn't use any PLR content. Thinking to use PLR articles for my next blog.
If you are interested you can download 7000 PLR Articles for FREE. Just download it and publish in your blog once you rewrite the contents. If you don't want to download then you may buy PLR articles for your blog and get job done easily.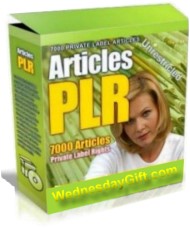 I am giving away these 7000 articles for free.  This package contains almost all hot niche. You are not allowed to give it away for free to others. It is only for your personal use.  I have more PLR Articles. You can subscribe to my blog updates and also get the $100 A Day Income System Completely FREE.
Download 7000 FREE Private Label Articles Here [1]
Need More Articles? Get It Here [2]

Tags:
continue blogging
[3]
,
free internet marketing
[4]
,
free plr articles download
[5]
,
free private label rights articles
[6]
Related posts