Changer.com Review
Today I'm pleased to publish my review about Changer.com - a well known and reliable e-currency exchanger. If you're using online payment systems and e-wallets then you need the help of this type of companies (e-currency exchangers) to exchange money from one e-wallet or payment platform to another. Changer.com provides e-currency exchange services since 2009 when its old brand xChanger.org was launched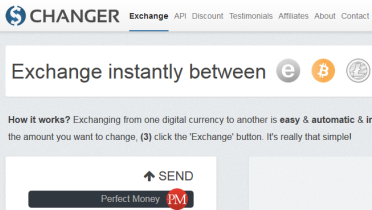 About Changer.com
Two years ago they created the new brand, Changer.com and are now providing automatic e-currency exchange services using a secure and easy to use platform. Their old domain name redirects to Changer.com and they're also developing new websites (Exchanger.com and Obmen.com). Changer.com has a very good reputation and their platform works 24/7/365 automatically. There is no need to register an account to use their e-currency exchange service but registered members have access to additional Discounts.
The exchange process is quite simple, you select the exchange direction and enter the amount you wish to exchange change, then click on the "Exchange" button. You'll be redirected to payment page.
Changer.com E-currency Exchange Service
At the moment Changer.com provides automatic exchange services between the following e-currencies: Perfect Money , OKPAY, Payeer, AdvCash AdvCash, BTC-e, Bitcoin, Litecoin, Ethereum, Dogecoin, Dash, Lisk, Bytecoin, Peercoin, NuBits, Clams, Tether, Monero, Namecoin, MaidSafeCoin.
New options may be added at any time so make sure you visit Changer.com website to see their Live rates.
Registered members have access to Changer.com Discount System getting up to 25% Discounts based on volume. If you'll exchange more you'll get a bigger discount.
Website Features & Online Presence
Changer.com uses a secure platform and their website is hosted on DDOS protected server in Switzerland. Their website is accessed through an SSL encryption so all personal details are protected.
Using an e-currency exchanger is almost a requirement when you're dealing with online payment services and e-wallets, but you must be careful, not all providers are offering good services. This is why Changer.com is appreciated by everyone who used it, because it has build a good reputation over the years, processing all orders on time since 2009.
I've searched online and I found only good opinions about their e-currency exchange service. Changer.com has a very good reputation and provides a great support to their members. All my questions were answered fast and in detail.
As a conclusion I can say that I've personally used Changer.com and I'm pleased how the entire process worked and how easy it was to exchange. I highly recommend their service.