TrafficHeap Review
Hello friends! Hope all of you are doing great. Today I want to review a revenue sharing program named TrafficHeap. TrafficHeap is not like a regular high yield investment program, it's an advertising platform that shares its winnings with paying members.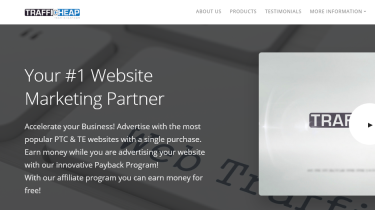 TrafficHeap Review
TrafficHeap investment program is managed by TrafficHeap Advertising Limited a company incorporated in the United kindom with registration no. 10761962. The postal address listed on CompaniesHouse.gov.uk is 38 South Street, London, England, W1K 1DJ.
TrafficHeap is a revenue sharing program and in order the take a part from their revenue you must make a minimum deposit of $50 from "Buy Tokens / Ads" section in their members area.
You are not required to surf/view any ads but you can advertise your own website or a referral link if you wish. If you want just to be an investor you can purchase only their tokens without having to do any other actions (like viewing websites).
Revenue Sharing
40% from every deposit goes to the "Payback Pool" and every day the "Payback Pool" is split between members with active deposits.
To earn money with TrafficHeap you must buy their "tokens". Each token costs $50 and you can buy up to 100 tokens so you'll invest amounts of $50, $100, $150, $200…. up to $5000 max.
TrafficHeap accepts various online payment methods: Bitcoin, PerfectMoney, Payeer, Payza, AdvCash.
Earnings Example
Because TrafficHeap is a revenue sharing program you'll be paid variable interest, it can be 1%, 2%, 3%, 4%… daily so potential earnings can't be estimated.
For example if you bought 20 tokens valued at $1000 and the interest calculated for today is 1% you earn $10.
So, it all depends on how many tokens were purchased by members in a certain week.
You can earn more with their affiliate program, TrafficHeap pays 12% referral commissions so for every token purchased by your referral you get paid $6.
Please not that this is a 2 levels deep affiliate program so you will also earn commissions from your referral's referrals.
Technical Features
TrafficHeap uses a custom software with a very user friendly interface.
Their website is hosted on a ddos protected server and an it's accessed through an SSL encryption keeping members personal info in a secure environment.
One interesting feature is that you can withdraw money in a different payment processor than the one used to deposit. This is great because you'll not have to use an exchange if at some point you need your earnings to be used with a different payment method.
Conclusion
TrafficHeap has all the "ingredients" to become one of the best investment opportunities of 2017. They offer great support to members, I received fast and detailed answers to all my questions. Don't hesitate to share your experience with TrafficHeap by adding your comment bellow.

About EarnMoneyOnlineHubber
I am a Blogger who likes to make money online. Previously I was working in a Software Company and I quit my job in February 2010. Since then I make my full time income online.