Promote Your Business With Photos
First thing up to consider is that for any small and medium business getting "found" is the most important asset one can work for when it comes to web searches and yes, that includes the Google Maps business pages too (not just the normal web search views that we're all familiar with).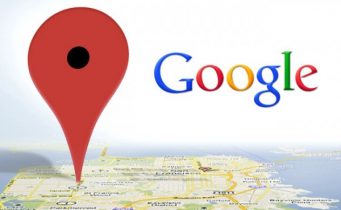 So to begin, if one goes then to Google Maps and types in "innovation park…" you will see this page -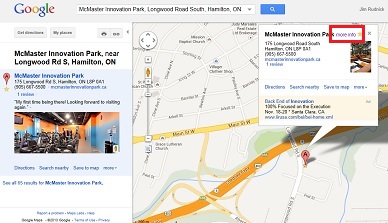 As you can see, you quickly get the standard Google Maps layouts with the particulars of the client's business info in the left-hand sidebar, and the map on the right with the icon shows the exact street address along with the pop-up details box…and clicking on the …more info text link drills you down within the Google index to the actual business profile for McMaster Innovation Park itself as you can see here in the screenshot below: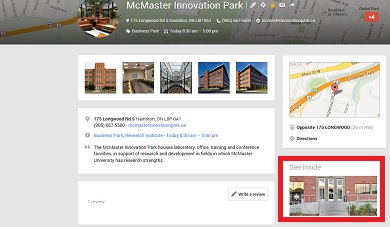 Note that in the red area, there is a picture of the actual front door of the home building for the client with the term "See Inside" listed there too…meaning of course, that this too is a link and a click will move you from this business profile page directly into a "tour" of the building premises itself! Clicking then on that link gets you to the actual start of the tour of the premises as can be seen here…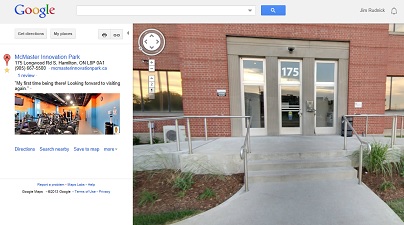 Note too that the left-hand sidebar reappears with the business details but that the right hand side now offers up the usual Google movement icons, i.e. those arrows etc that show a visitor where they can move visually within the building itself. Clicking on same, moves you through the property itself and after just a few short clicks, you are in the beautiful Atrium area of the property and again yes, you can move around the whole area and see anything you might like to see.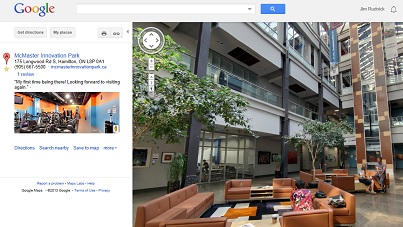 Further clicks of course move you around the property and as you can tell, the photos themselves are very very professionally done and the lighting and focus are excellent! Kudos then to the great local Hamilton photographer who took these beautiful photos, Francis Fougere!  And there are many placeholders for ways to view this excellent tour via text and image links within the normal Google areas too….i.e. Google makes it easy to see this beautiful tour of the premises!
So….interested?
I'd think so…this would be a great feature to add to any  Google business page profile and yes, Google provides both a method to DIY as well as great referrals to local photographers for you to use too!

About EarnMoneyOnlineHubber
I am a Blogger who likes to make money online. Previously I was working in a Software Company and I quit my job in February 2010. Since then I make my full time income online.