OKPAY Review
What is OKPAY? Although there are many options for online merchants, a lot are also filled with bells and whistles. You don't need that. What you're looking for is a system that addresses needs and preferences quickly, conveniently, and effectively such as OKPAY: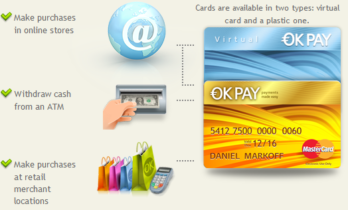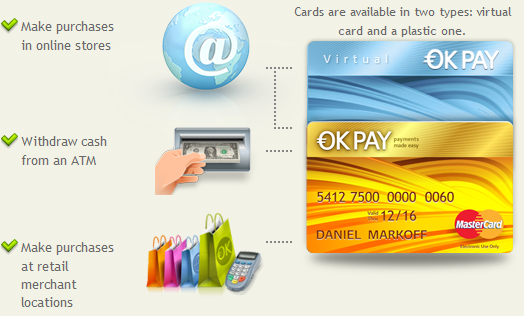 Easy and free registration: It takes less than a few seconds to complete the registration process. It doesn't ask many pieces of information, and of course it's 100% free. Many online merchants don't have excellent technical background, so keeping things simple and easy is essential.
Lower fees: OKPAY has one of the lowest service fees in the market today. It doesn't charge anything for wire transfers if you're depositing money and withdrawals are only 1%. You can also cash in both U.S. dollar and euro checks with only 2.5% fee, and the minimum amount you can encash is $10 or 8 euros.
Multi-wallet and multi-currency accounts: Any business desires expansion or growth, and the Internet allows them to do so with the least expense possible. For example, an online merchant's reach can be worldwide. But while there's really no issue as to client reach, there may be when it comes to payments. The online business should be able to receive, collect, and process in different currencies, for example.

OKPAY offers support to more than 15 of the most popular currencies in the world including Bitcoin. They can be converted into different currencies using the real-time prevailing market rate (there are no fees with this one). It also provides a multi-wallet option, which means you can already manage invoices and collections of various clients or suppliers separately but using only one account.
Different payment options: OKPAY also lets online businesses accept payments in different forms. Buyers can choose to pay via electronic currencies and Bitcoin, bank wire transfers and cash transfers are also possible.
OKPAY Card: Another cool and secure way of withdrawing money from your OKPAY account is the OKPAY Card. Since it's a MasterCard, you can not only use it as a method of converting your electronic money into cash, but also to pay for various goods and services absolutely everywhere where MasterCards are accepted.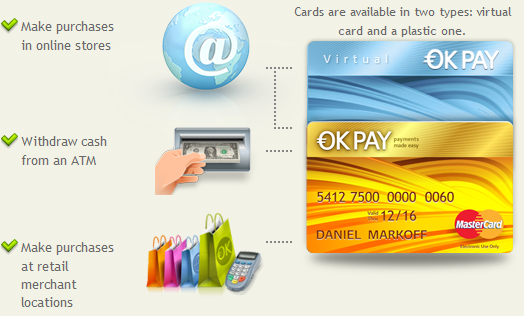 Mass payments: Many online businesses offer promotions such as rebates and other incentives as a way of staying competitive. The problem is it's quite difficult to keep track of the recipients and how much they should receive from the business. OKPAY is one of the very few systems that have made mass payments more effective. With this function, you can already send mass payouts such as rewards and employee benefits all in one go. You can even automate the process in case these offers run for a certain period.
Security: This payment platform ensures security for all transactions and accounts. This is fundamental since online merchants also need to guarantee their clients that they're also secure to do business with. OKPAY is able to achieve this in many different ways. One, it automatically determines the IP address where the account is being accessed. Two, only verified accounts are allowed to use the features. To be verified, you need to submit proof of identity and address, as well as verify your e-mail address and phone number. The third and the most advanced way is getting a one-time code onto your mobile phone (two-factor authentication).

Shopping cart integration: OKPAY is quick and convenient to integrate into any existing shopping carts, whether they are open source or commercial. It has a rich API capability and supports choices like VirtueMart, Precision Web, Bill Manager, and Open Cart.
Summary: although the process of verifying your account can be a bit tough (the guys seem to be really preoccupied with security, which is not bad in itself), OKPAY is a nice solution for any online business with a lot of features conveniently gathered in one placed.

About EarnMoneyOnlineHubber
I am a Blogger who likes to make money online. Previously I was working in a Software Company and I quit my job in February 2010. Since then I make my full time income online.