Writing For Money - Easy way to earn cash online
Writing for money? But how? You can earn cash online by writing small articles. Even you don't need any website. You will get a free web page where you can publish your article and make money online. You don't have to know anything about HTML or other technical stuff to publish your content. It's very easy to build a page and to publish. You can earn cash from various sources once your page got published. Writing for money is the best way for those who don't want to build their own website and want to earn cash online. You can write on any topic that appeals you.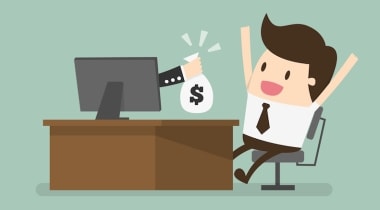 Where to start writing for money?
Here I am explaining some of the opportunities where you can start your journey. All are totally free to register and you will get help in the help section of website if you face any problem.
Squidoo is the best place to start writing for money. Its very user friendly and also you can create as many pages as you want. These pages are called LENS and those who create Lens called Lensmaster. You can create any lenses on any topic. Once your lens got published people can view your lens from various sources . You can promote various product from ebay, amazon, clickbank to earn from your lens. To make money through Squidoo lenses your lens should get traffic. You should get reader to your Squidoo Lens.
If you are interested in making your Squidoo Lens you can download a free guide on how to make a Squidoo Lens. Squidoo Lens Creation for Newbies is written by POTPIEGIRL, founder of famous ONE WEEK MARKETING plan. The guide is really very good for beginner. Everything is written step by step with diagram of each step. You can easily follow the steps and make your own lens. Important point is that the guide is totally *FREE*.
Download Squidoo Lens Creation for Newbiesand start your first lens creation for *FREE*.
Below video will show you how to create a squidoo lens:
Hubpages is one more website where you can create your own page. In Hubpages the page which you will create is called as hub and you will be called as hubber. You can have as many hub as you want. Hupages are almost similar to Squidoo lens. If you are a beginner then just download Squidoo Lense Creation for Newbies. Once you know how to create a squidoo lens, you will be also able to create hubpages very easily.
There are so many other websites where you can create your own page. You can also create page at Howhub.com. Select a topic of your interest and start writing for money today.

About EarnMoneyOnlineHubber
I am a Blogger who likes to make money online. Previously I was working in a Software Company and I quit my job in February 2010. Since then I make my full time income online.