Getting Started With Making Money Online: Part 1
December 17th, 2011 by Chandan Dutta
Hi Friends,
I am sorry for the delay. There was an SERP update on 14th October and this update created a lot of problems for me. Before this update I was making $3K+ from ClickBank. But sadly, the update destroyed 60% of my income. From October I have been working so hard to recover my loss. So far 80% is recovered and thought to update my blog. Hopefully everything will be sorted soon.
One big lesson I learned and that is - Never put all your eggs in one basket. Means, don't invest your everything only in one source. We should try to diversify our source of income. My 90% income was based on Google. I was making money from all those sites which are ranking in top 5 in Google. Only one update vanished my 8 months of hard work. Lot of keywords fall down to #8-#10 which created big loss for me. So, if you are planning seriously, then don't do like me. Never depend only on one source. Try to diversify income as much as possible.
What Did I Do To Recover?
It was not so easy. I had to spend more than $4K to recover. Initially I worked on my most profitable sites so that my income comes to a manageable point. Invested in another source of income source which should bring at least $2K per month. Practically I diversified my source of income.
Lets Start With How You Can Make Money Online:
I have only one request to you. Don't be a victim of all those program which promises to make you rich within 48 hours and without any investment. No, it's not like that. Even day by day it is getting more and more tougher. You can make money online only and only if you take it very seriously like any other business. There is no any short cut, period.
To make money, you have to invest first. Of course there are some ways where you don't need to invest initially. But those are short term and you can't dream of a passive income based on them. To be successful you have to have a complete plan.
1. Provide Services To Make Money
(Or)
2. Make Money With Affiliate Marketing or With Your Own Products
How You Can Make Money Providing Services?
This is the most easiest and fastest way to make money online. To do this first ask yourself what you are capable of doing. Can you write article, design website, install blog, modify blog, submit article, build backlinks, can do social bookmarking, can make power point slide, can make video etc.
If you can do any one of above, you can make money. However this is not limited only to those work. I gave only few example of works which you can offer as a service. Basically with services you are helping other people to make money and you are getting a part of it. For example: Initially I used to write lot of articles for my own sites. But now I don't. I outsource all articles since I can invest article writing cost from my profit. So, my writer is getting some part of my profit.
Where You Can offer Your Service?
There are lot of Freelancing websites where you can bid on any available job. It's not so easy to get work initially since people hire employee with good reviews. Definitely you need to earn good review of your service. But don't be negative, be positive always. Try and you can get good work. If you are capable of something, then definitely job is there for you.
I already listed few good Freelancing websites in one of my very old post and you can read it here: Freelance Jobs More over you can search in Google as: Freelancing websites. First go through all the available jobs and then you would have better idea about what you need to do.
The next great place to offer your service is Fiverr.com. Fiverr is a place where people can order any services for $5. I believe I don't have to write more about Fiverr here. Instead you can directly visit website and check what others are doing.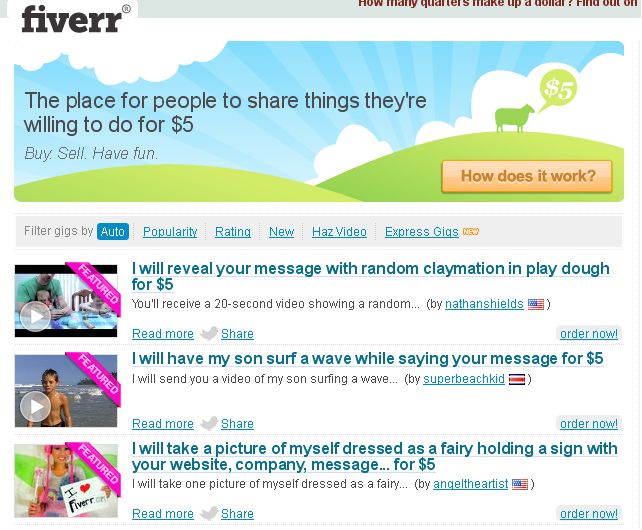 Follow what others are doing and if you do, I don't see any reason why you won't be able to make money.
I hope you got the complete idea about how you can money providing services. In my upcoming posts I will cover about how you can make money with Affiliate Marketing or with your one product. I mean the 2nd primary way. Don't forget to check my email.
If you have any questions, then don't hesitate to ask me. Use the comment form below to ask any question and I will reply asap.
Tags:
make money providing services
,
making money online
,
tutorials to make money online
Related posts