June 1st, 2009 by Chandan Dutta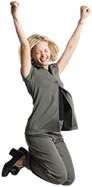 In present days of recession time you can consider
freelance jobs
to build your own
recession proof home business
and start earning money online. There are so many freelance jobs available today and you can choose any thing your are best at; for example article writing, editing, programming and web design, conducting, administration etc. You can meet your lifestyle need and see some profitability to manage your overhead doing freelance jobs. There are so many clients worldwide who want freelance worker to do their job. This way both the parties can be benefited. Clients can easily reduce their project expenditure by outsourcing their project and as a freelance worker you will be able to earn a massive amount of income by working from home. Freelance job is the most convenient and legitimate way to earn cash online either working part time or full time.
Advantages of Freelance Jobs:

Freedom Freedom Freedom…..You and only you..no boss. Live life being independent.

Being able to arrange your work schedule yourself and you are no longer locked into a crazy schedule like 9-5.

Work from home or anywhere you like and with any client as you wish. You just need a computer and Internet connection.

You will be able to get proper value of your work and keep yourself far from office politics which is very famous.
However there are some disadvantages also while choosing your career as a freelance worker. But you will be able to overcome from all those disadvantages if you determine to build your career as a freelance worker.
Disadvantages of Freelance Jobs:

It may takes time to build your career as there is too much competition. However if you have ability surely you will be able to stand against competition.

You may feel lonely as you will be only there in your work. But when clients will be searching for you for your work, you may expand your work and start your business by recruiting other people.

You will loose additional benefits from your employer such as pensions and health-care provision. But I don't think it matters most for those who dream to build their own business.
OK, now I am ready for Freelance Jobs. Where to start?
Welcome my friend. That's why I am here to show you some way where you can start your journey. To get project from client you need to create your profile mentioning your abilities clearly. Depending on your profile you will be able to bid on available project. You will get the project once you win the bid. Below is list of legitimate Freelance Jobs provider where you can start your freelance work.
Guru.com is the largest online service market place. There are more than 160 categories in which you can find for your freelance work of interest. Currently there are three types of membership available. Basic, Guru which is $199.95 annually and Guru vendor which is $259.94 annually. Huge market place for freelance programing jobs.

Elance is one more place where you will get lots of freelance jobs to apply. Here also two types of membership available; one is free and another one is paid. For paid member they charge one time $16.90 at the time of creation your profile. You can start with free membership easily. When Clients (Employers) make a payment to their Service Providers(Freelance Worker), Elance deducts between 6.75% and 8.75% from the payment to cover its Service Fee and Payment Processing costs and transfers the remaining amount to the Service Provider.
In Scriptlance you will get lots of freelance works. For example programming, logo design, website design, article writing, content submission, online data entry etc. So if you are looking for online data entry work you might want to visit Scriptlance once to access freelance jobs.
As from the name only you came to know that GetaCoder is the place for Freelance Programmer and Software Buyer. You can do your FREE registration. However Rent a Coder charges freelance programmer a Rent a Coder Fee (from 15% to 7.5%) on the profit from work and questions. You can bid on different types of available project based on your profile. Rentacoder.com is one more website similar to GetaCoder who offer freelance programming jobs.
Gofreelance cover lots of freelance works. Most importantly you will be able to get online data entry work, virtual assistance jobs, telecommunication jobs, editing jobs and even programming jobs also. But its not free. However there is a trial offer available which charge $7. If you want you can try once for trial offer and if you don't like then you can cancel the membership at any time.
This is one more website where you can try for lots of freelance jobs. They have two types of membership. Basic which is free and gold membership which is $12 per month. Advantage of being gold member is that you don't have to pay any commission on your earning and you will get higher ranking plus exclusive projects to bid on. 72.83% of projects are won by Gold members. Another website similar to GetaFreelancer you can try http://www.eufreelance.com where you can earn in euro.

Click here for sample Freelance Jobs
Did you like my post about Freelance Jobs? If yes, you might want to give me your valuable feedback blow.