June 25th, 2009 by Chandan Dutta
Would you like to turn your keywords into cash on autopilot without annoying your blog reader and and implementing a very simple process? Of course you would like. It requires only few simple initial setup. Once it is set, the process will do all the job automatically for you. You can then repeat the same process for each keyword you want. Any keyword you can select for this purpose.
How To Turn Keyword Into Cash On Autopilot:
To apply this technique you need self hosted wordpress blog. You need to install one plugin and set some initial parameter. This plugin is aLinks. There are two ways to set the initial parameter for this pluging to work. Just install the plugin and activate it. Here I am showing both the ways.
Setting ClickBank Nickname and Product Id
1.Click on the Setting of aLinks. If you are using wordpress 2.7.1 it will appear in a widget aLinks just below the Settings widget. Once you click Setting of aLinks you will get the following option: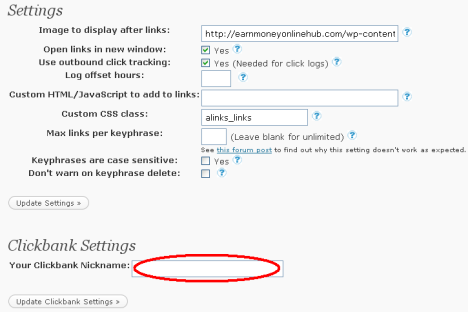 Enter your Clickbank Nickname in Clickbank Settings. Then click on Update Clickbank Settings.
2. Click on Keyphrases of aLinks widget. Here you have to set your keyword which you want to turn into cash. You will get as: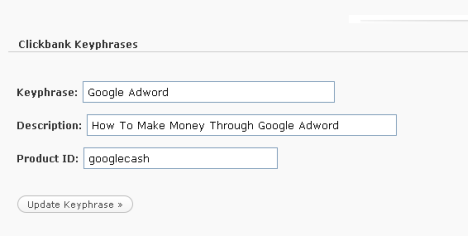 Below Clickbank Keyphrase section enter your keyphrase here. For example I entered Google Adword. Give a small description and the product id. Before you could have get the product id from your clickbakn hoplink as it was in the form:
http://YourNickName.googlecash.hop.clickbank.net
But now clickbank started with a new method to encrypt the hoplink so that no one else can steal the affiliate commission . So if you create a hoplink for googlecash it will be as:
http://f5829fqgxz2-2×0fzlnis4qikq.hop.clickbank.net/
You can't find product id from this link. But wait! you can find it in another way. Just go to clickbank and place the mouse cursor on the view pitch page. See the link that appears on status bar. For Google cash I got as follows:

Form the above I got the product id and that is googlecash. I entered this product id in aLinks settings.
3. Click on Update Keyphrase. You have done. Now wherever the keyword Google Adword will appear in your blog it will create a link for Google Cash 3rd Edition.
Setting General Keyphrase and URL
This step is more easier than setting clickbank keyphrase and product id. For this setting just see below clickBank Keyphrase. Here I am showing an example: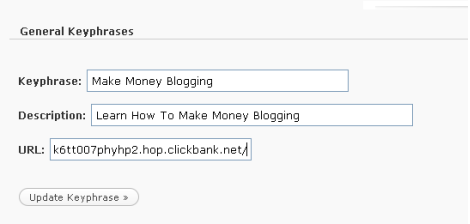 As you see I entered the Keyphrase Make Money Blogging. To get my hoplink I went to clickbak and search for my desired product. Then I created hoplink and place that hoplink in URL.
Next click on Update Keyphrase.
You have done with General Keyphrase and URL settings. Now whenever the keyword Make Money Blogging will appear in my blog it will create a link to my affiliate link automatically.
There are some more information you can find using aLinks. Such as statistics of how many and which link got click. Even you can import keypharse form other file. However you can use the General Keyphrase to link your existing post or anywhere you wish.
It's just a simple process to create a affiliate link for your blog keywords and at the same time monetilising your blog without annoying your reader.
Related articles by Zemanta